Sale
Dynamic Self confidence – Overcoming Shyness
Reflective Self-Hypnosis
Dr. Mary Fuller, Dr. Matthew Cohn
Length: 42:28
Stream this Audio
Click the button below to listen on your favorite music service

Listen Now
You Save $7.96 (80%)
Instant Download to Your PC or Mac
— Listen on Any Device
Unleash Your Powerful, Confident Self
Would you like to be a part of the conversation more often, but aren't sure how to join in?
Do you often feel awkward or uncomfortable in social situation?
Do you sometimes feel alone because you find it difficult to strike up conversation with other people?
Do your ever feel limited because you don't have the confidence to do the things you want?
Self-confidence can unlock many doors in your life. No matter how skilled or talented you are, no matter how much you give to the world, people will have a tendency to not think much of you if you don't think much of you.
You deserve better!
You deserve love, success and happiness – and having greater self-confidence can help you attain that. You are good enough to be part of the conversation. No matter how shy you are now, Reflective Self-Hypnosis can help you break out of your shell and enjoy socializing more no matter where you go.
You'll find that people are naturally more attracted to you, your influence will grow, and you'll be a lot happier in all areas of your life as you gain more confidence in yourself.
Reveal your Uninhibited Self and Live Life to the Fullest!
Many self-esteem issues aren't tied to your actual worth. You are valuable as a human being, even if you have failed many times before – and many people with a lot of confidence know this. They are able to carry on with their head held high even through the shortcomings and weaknesses – and you can, too.
In this powerful Reflective Self-Hypnosis audio download, our certified hypnotherapists will take you into a deeply relaxed state of mind where your unconscious will be open and receptive to the positive affirmations created here to empower you to see your true value as a person.
Overcome your shyness by seeing that you have just as much worth as everybody else participating.
Download this powerful hypnotherapy session and conquer your shyness and reservations today!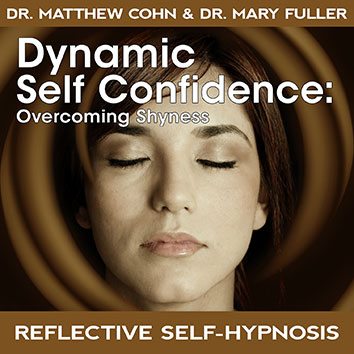 Dynamic Self confidence – Overcoming Shyness
List of Tracks in This Download
1. Theta Level Hypnosis

21:46

2. Alpha Level Hypnosis

20:42
Total Time: 42:28
Dynamic Self confidence – Overcoming Shyness
You Save $7.96 (80%)
Reflective Self-Hypnosis
Dr. Mary Fuller, Dr. Matthew Cohn
Length: 42:28
Instant Download to Your PC or Mac
— Listen on Any Device
Or Save $16.32
with This Matched Set