Sale
New Life after Divorce
Subliminal Threshold Affirmations
David & Steve Gordon
Length: 1:14:31
Stream this Audio
Click the button below to listen on your favorite music service

Listen Now
You Save $10.00 (67%)
Instant Download to Your PC or Mac
— Listen on Any Device
Create a New Beginning for Yourself After Divorce
Are you going through a divorce?
Do you feel a divorce of your marriage might be unavoidable?
Are you feeling lost after years of marriage?
Do you struggle to know where to go from here?
Divorce, no matter how devastating, can be a new beginning with opportunities unlimited – but you need your inner mind working for you.
It may seem catastrophic or unbearable now, but the truth is that many new doors have suddenly been opened for you in this scary time. The options you have now abound. But, you have to keep your eyes open for them, for many of the options that are now available to you aren't good ones.
With the wrong mindset, the path in front of you may easily become one of woe and hardship. That's why it's so important that you get the right ideas and the right attitudes planted deep within your subconscious mind in order to give you the best outcome.
With the right positive outlook, you'll find that divorce doesn't have to drag you down into despair. Instead, you'll find yourself looking forward to the future and what awaits you there.
Free yourself from all the past doubts and regrets. Free yourself from the burdens of feeling like something failed. Life is full of twists and turns and you merely have to know how to ride them!
Find New Love After Divorce
With these Subliminal Threshold Affirmations, you can begin to forge a beautiful new chapter in your life.
This subliminal audio download is an absolute must for anybody who is feeling down about their divorce or unsure what to do next. When you change the way your subconscious mind thinks about these things, you change the entire experience of your life to a positive and exciting one!
All you have to do is sit back and listen to the relaxing music and nature sounds while the messages-beneath-the-music begin to plant positive thoughts in your mind about your future.
Download this amazing subliminal audio today and get ready for an exciting new chapter in your life.
What Subliminal Affirmations Are Included?
I create my own future happiness. I have let go of all feelings of blame and helplessness. Past negativity is now erased. I am complete in myself. I am free of all forms of emotional dependency. My emotions have healed. My spirit has regenerated. I greet each new day with anticipation. I am open to new experiences, ready to live life to the fullest. I am free to celebrate life with new and interesting people. New and exciting things are happening in my life now. Everything works out even better than I plan it.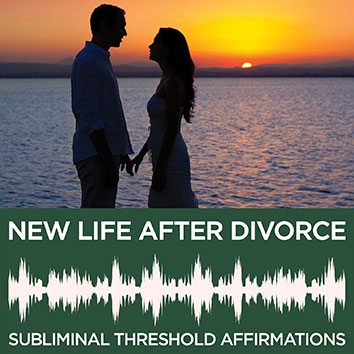 New Life after Divorce
List of Tracks in This Download
1. Introduction & Brain Mind Affirmations - New Life after Divorce

10:37

2. Guided Meditation & Subconscious Affirmations - New Life after Divorce

23:28

3. Subliminal Ambient Meditation Music

10:08

4. Subliminal Chill Out Music

10:07

5. Subliminal Relaxing Music

10:06

6. Subliminal World Fusion Music

10:05
Total Time: 1:14:31
You Save $10.00 (67%)
Subliminal Threshold Affirmations
David & Steve Gordon
Length: 1:14:31
Instant Download to Your PC or Mac
— Listen on Any Device
Or Save $20.99
with This Matched Set