Sale
Sacred Drum Visions – The 20th Anniversary Collection
Relaxation Music
David & Steve Gordon
Length: 1:04:52
Stream this Audio
Click the button below to listen on your favorite music service

Listen Now
You Save $7.96 (80%)
Instant Download to Your PC or Mac
— Listen on Any Device
Become one with the Earth – a phrase often repeated but whose meaning we sometimes lose touch with. Now, in this powerful 20th Anniversary Collection, the Gordon brothers bring to life the true meaning of the phrase.
Long renowned for their powerful healing and meditation music, brothers David and Steve Gordon continue to create beautiful soundscapes that transport the listener to places they've never been – free to roam new lands and worlds beyond anything experienced in our daily lives. Like many of their other creations, Sacred Drum Visions breathes new fire into the imagination, fueling a phenomenal journey of spiritual awakening.
This anniversary album includes mp3 downloads featuring the #1 selling world music tracks that have helped lift listeners to new levels of spiritual knowing for two decades.
Explore the entrancing beats of native flutes, Incan pan pipes, acoustic guitars, Lakota and Sanskrit chants, along with world trance themes blended beautifully together with wilderness sounds, including the haunting calls of both the wolf and eagle.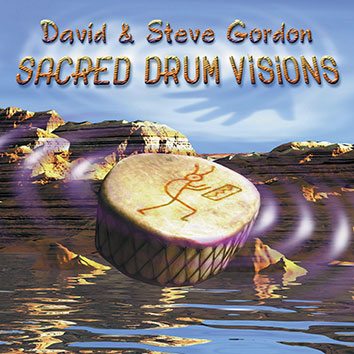 Sacred Drum Visions – The 20th Anniversary Collection
David & Steve Gordon
Click the play buttons to hear sound samples:
1. Faithkeeper - Part 1

8:54

2. Sunrise Ritual (Deep Earth Mix)

6:06

5. Light Of The Canyon

7:23

10. Faithkeeper - Part 2

4:52
Total Time: 1:04:52
Sacred Drum Visions – The 20th Anniversary Collection
You Save $7.96 (80%)
Relaxation Music
David & Steve Gordon
Length: 1:04:52
Instant Download to Your PC or Mac
— Listen on Any Device
Or Save $16.32
with This Matched Set