Gain Incredible Self-Esteem and a Positive Self Image
Do you feel like you're not deserving of great things?
Do you feel as if other people are more competent than you are?
Do you often wait to see how others perceive you before forming an opinion about yourself?
If you don't get validation from others, do you feel lousy about yourself?
Do you find that others don't seem to value you very highly, either?
High self-esteem can often be a tricky issue. How you perceive yourself governs how others perceive you. In turn, if others don't perceive you highly, then it can create a negative impact on your self-esteem making the situation worse still.
This is an unfortunate cycle when you consider how important your self-esteem is to everything else that you do, or that happens to you in life. When you feel good about yourself every area of your life is transformed – your relationships, your career, your health and anything you do.
For some, this comes naturally. These people seem to be born with a natural reservoir of self-assuredness while others struggle with it daily. With Subliminal Threshold Affirmations, however, you can harness this naturally positive self-image for yourself. Now you can let your inner mind be conditioned by affirmations that allow you to accept yourself – your wonderful self. Watch your positive self-image soar (and watch your friends' reactions!).
Empower Yourself with High Self-Esteem
These Subliminal Threshold Affirmations naturally work with your inner mind to give you the confidence you need to believe in yourself and make others believe in you as well.
The positive messages that will be flowing to you in these relaxing audio downloads are recorded in an exclusive process that bypassed your conscious level of awareness so all you hear is the mind music that comes in a variety of music styles so that you can use whichever one best suits your mood.
While you're enjoying the music, your unconscious mind is bathed in helpful messages that instill you with a more positive outlook on yourself.
Don't wait another day not feeling fantastic about yourself!
What Subliminal Affirmations Are Included?
I am a special person, a unique individual. I feel good about myself. I deserve the best in life. I am comfortable with myself and others are comfortable being with me. I strive to improve myself, setting and achieving personal goals. Along the way, I accept and respect myself as I am now. Friends, acquaintances, business associates, everyone I meet feels good about me because they sense my inner confidence and self-esteem. As I listen to this program I feel even better about myself every day.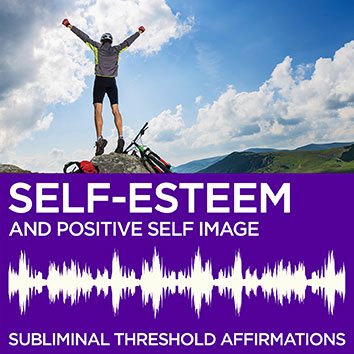 Self-Esteem & Positive Self-Image
List of Tracks in This Download
1. Introduction & Audible Affirmations

10:40

2. Guided Meditation & Subliminal Affirmations

22:37

3. Subliminal Ambient Meditation Music

10:09

4. Subliminal Chill Out Music

10:04

5. Subliminal Relaxing Music

10:06

6. Subliminal World Fusion Music

10:08
Total Time: 1:13:44
Self-Esteem & Positive Self-Image
You Save $7.00 (27%)
Subliminal Threshold Affirmations
David & Steve Gordon
Length: 1:13:44
Instant Download to Your PC or Mac
— Listen on Any Device
Or Save $11.48
with This Matched Set
Self-Esteem & Positive Self-Image
Subliminal Threshold Affirmations
PLUS
Positive Attitude
Subliminal Threshold Affirmations

Risk-Free Lifetime Guarantee
If for any reason, you are not satisfied, you may contact us for an exchange or refund. There is no time limit - you can take as long as you want to decide. We have total confidence in our products and we want you to be happy with your purchases.
3 Ways You Benefit with Our Tools for Transformation
Our Team of Experts
The experienced Light of Mind team of human potential therapists, meditation designers, sound engineers and researchers are unequalled anywhere. Their ground-breaking discoveries have changed people's lives with exclusive products unlike anything else you have heard.
Our Proven Technology

We pioneered many of the personal growth audio concepts widely used today. Our exclusive selection of revolutionary products more effective than anything else available. There are over 750,000 people all over the world who have transformed their lives with Light of Mind transformational audio products.
Our Unmatched Track Record
Light of Mind products have sold over 3 million since 1985 and have been seen in magazines such as Psychology Today, Discover, Cosmopolitan, Woman's Day, Omni, Science Digest and more.