Master the Full Power of Your Mind
Welcome to an exciting new concept in metaphysical training. In this comprehensive step-by-step audio course, Dr.Cohn has condensed his extensive knowledge of ancient wisdom and modern breakthroughs that would previously have taken years of expensive instruction to master. If you've ever wanted to hypnotize yourself or others, meet your spirit guides, perform astral projection, psychic healing, or trance channeling, this fascinating course can help you.
You get 3 hours of involving sessions that expand your awareness using techniques that always work. Through the most effective altered-states programming available, you fully experience your own inner power. As you progress from session to session, you discover the incredible psychic talents and metaphysical abilities you know you possess, but which have been hidden until now.
With the training and empowerment of this course, you can hypnotize others, or become a Metaphysical Practitioner or Psychic Channel. Or use the techniques to help friends and family, or develop your psychic abilities. If you are already a metaphysical professional, this course greatly expands your knowledge even further.
Track 1:Hypnotic Self Induction and Deep Trance – In this introductory session, Dr. Cohn reveals his own personal techniques for self-induction. You learn the right way to enter a deep trance state at will, and are guided effortlessly through the entire process.
Track 2: Metaphysical Hypnosis Course Instructions-Building Your Mind's Secret Room- Here you learn how to construct your own mental workshop where you discover and practice your new psychic powers. Your Secret Room" makes it possible to achieve very high levels of metaphysical ability.
Track 3: Astral Projection and Astral Travel –On this track, Dr. Cohn
shows you a guaranteed method of successful astral projection. You learn how to project your astral body to any location in anytime – past, present or future, as well as to various levels of the astral realms. With your "Secret Room," astral travel becomes much easier, and completely under your control.
Track 4: Meeting Your Spirit Guides –Each of us has a male and a female spirit guide who helps us, and makes our journey through life easier and more fulfilling. In this session, you'll meet your spirit guides who will be available to you any time you call upon them.
Track 5: Psychic Self-Protection and Self-Healing –This is a very important track if you are planning to do psychic work on others, professionally or personally. Dr. Cohn teaches you effective ways to protect yourself from negative forces, and how to mentally cleanse and heal yourself.
Track 6: Healing Others in Your Presence or at a Distance –With the help of your spirit guides you can heal others, emotionally as well as physically. Powerful techniques for long-distance healing and psychic protection are revealed.
Track 7: Developing Psychic Powers, Higher Awareness and Advanced Techniques of Astral Projection –To succeed in Metaphysical Hypnosis, you must have the higher consciousness to always do the right thing with your personal power. In this session, you learn a special technique for raising your self-awareness to the selfless level of universal love and advanced astral projection.
Track 8: Trance Channeling, Instant Self Hypnosis and Advanced Techniques-You are now ready to learn to channel entities from beyond the physical realm. Channeling wise and loving beings is a very inspiring and illuminating experience, for you as well as others. The ability to channel will set you apart as a truly exceptional psychic professional.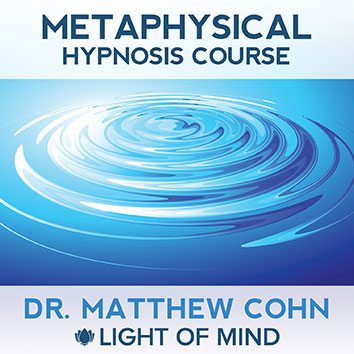 Metaphysical Hypnosis Course
List of Tracks in This Download
1. Hypnotic Self Induction & Deep Trance

20:24

2. Metaphysical Hypnosis Course Instructions - Building Your Mind's Secret Room

22:48

3. Astral Projection & Astral Travel

22:30

4. Meeting Your Spirit Guides

20:28

5. Psychic Self-Protection & Self-Healing

22:48

6. Healing Others in Your Presence or at a Distance

23:21

7. Developing Psychic Powers, Higher Awareness & Advanced Astral Projection

23:04

8. Trance Channeling, Instant Self Hypnosis & Advanced Techniques

22:58
Total Time: 2:58:21
Metaphysical Hypnosis Course
You Save $12.00 (17%)
Self-Transformation Course
Dr. Matthew Cohn
Length: 2:58:21
Instant Download to Your PC or Mac
— Listen on Any Device
Or Save $28.04
with This Matched Set
Metaphysical Hypnosis Course
Self-Transformation Course
PLUS
Behold Your Past Lives
Self-Transformation Course

Risk-Free Lifetime Guarantee
If for any reason, you are not satisfied, you may contact us for an exchange or refund. There is no time limit - you can take as long as you want to decide. We have total confidence in our products and we want you to be happy with your purchases.
3 Ways You Benefit with Our Tools for Transformation
Our Team of Experts
The experienced Light of Mind team of human potential therapists, meditation designers, sound engineers and researchers are unequalled anywhere. Their ground-breaking discoveries have changed people's lives with exclusive products unlike anything else you have heard.
Our Proven Technology

We pioneered many of the personal growth audio concepts widely used today. Our exclusive selection of revolutionary products more effective than anything else available. There are over 750,000 people all over the world who have transformed their lives with Light of Mind transformational audio products.
Our Unmatched Track Record
Light of Mind products have sold over 3 million since 1985 and have been seen in magazines such as Psychology Today, Discover, Cosmopolitan, Woman's Day, Omni, Science Digest and more.